The Slag Glass Automobile Ashtray
By Elton Gish
Many people think that these cute little glass objects are insulators. After all, they do somewhat resemble an insulator except there is a hole in the side and it seems a bit small for an insulator. But why would anyone make such a colorful "insulator"? Actually, they are NOT insulators at all! Believe it or not, these beautiful multicolored glass items are ashtrays. We haven't been able to learn very much about the ashtrays, but we do know they were used in automobiles during the 1930's and as late as the 1950's. Back then cars had a smooth metal dashboard. The hole in the side of the ashtray usually was fitted with a rubber suction cup that could be easily attached to the metal dashboard. Another model had a metal bracket fitted in the hole that could be used to attach the ashtray more securely. In addition, the opening was fitted with a round metal insert with a hole in the center for the ashes to fall through.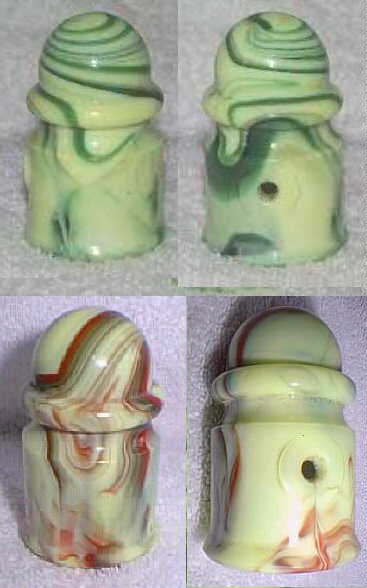 Two companies using a marbleized or slag glass that resembled rock agate manufactured most of the ashtrays. The HouzeX Glass Co. in Point Marion, PA made the ashtrays that are round without flat panel sides. Akro Agate in Clarksburg, WV made a similar ashtray that had 10 flat panels on the side. Akro Agate had a booming business until about 1946 when plastic became cheaper to use than glass. Sales plunged dramatically and, by 1949, they decided to close and stop production. Akro continued to sell the remaining stock and on April 24, 1951, Akro had a final auction sale.
A company called Westite is reported to have made the ashtray that has 8 flat panels on the side. Akro Agate purchased molds from Westite after the Westite factory was destroyed by fire and reworked the molds. Matching gearshift knobs can also be found made out of the same slag glass. One person told me that Vidro Glass might have made them, too. Most of this information was furnished courtesy of Bruce Clarke and Ron Jones who are collectors of this type of glass and who have given permission to use their photographs here.
Additional information can be found at the following web sites:
History of Akro Agate: http://www.akroagate.com/index2.htm
Ginny and Wendell Draper II started collecting the ashtrays because they originally thought they were insulators. Now they consider the little ashtrays more fun to collect than insulators. They have more than a dozen different ashtrays. They use to have one that had an embossed "AW" inside the dome. Wendell said, "This was the first one that we have seen with that on it and we don't know what it stands for. I've been to a few car shows and I've talked to some of the old-timers, they remember them being in the old Model A & T's trucks. I was also told that Western Auto sold these." The one in their collection that is complete with the metal bracket has the following marking on the metal bracket: Ark-Les Newton-Mass. USA. I want to thank Ginny and Wendell for letting me share photographs of the ashtrays in their collection.
Ken Roberts did an excellent display of these ashtrays at the 2001 National Insulator Show in Atlanta, GA. Click this link to see his display!



Return to the (Is this an insulator?) page
---
Last updated September 10, 2000