---
Click this link to the Smithsonian Pages
---
In March 2000, four NIA members, Larry Novak, Doug MacGillvary, Ken Willick, and Bob Berry, participated in a three-day marathon research venue at the National Museum of American History, Smithsonian Institution in Washington, D.C. complimenting continuing research begun by Kevin Lawless, NIA President 1998-2000.
The team worked closely with Nance L. Briscoe, Collection Manager of the earliest electricity collections in the Division of Information, Technology & Society. Together, we have reached a collaborative agreement to provide the whole of the insulator collections in support of the Smithsonian's mission:
"... for the increase and diffusion of knowledge …"
James Smithson, benefactor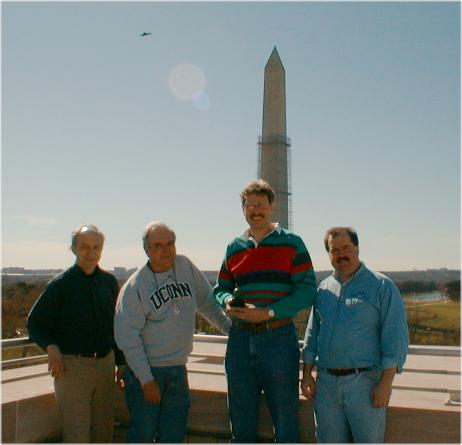 Larry Novak, Doug MacGillvary, Ken Willick, and Bob Berry on top of the American History Museum!
NIA member Larry Novak, also a Smithsonian Volunteer for the collaboration, is developing the SMITHSONIAN CONNECTION website to document this important research effort. The Museum has a solid representative insulator collection and associated material with a rich archive of supporting documentation, heavy in Western Union and Postal Telegraph companies among others.
---
Link to the Smithsonian Institution Pages
---
An outstanding project for the National Insulator Association and one that will provide support for years of future insulator research!
Smithsonian Institution Contacts:
Behind-the-Scenes Volunteer Program - (202) 633-2987 fax (202) 786-2831
Access to the Museum's Electricity Collections - Nance L. Briscoe (202) 633-9030
Email: fax (202) 633-9273
Access to the Museum's Archives - Allison Oswald (202) 357-3780
Email: fax (202) 3786-2213

Return to the National Insulator Association page
---
Webmaster