National Insulator Association
47th Annual Convention
July 28-31, 2016
General Show Information
Show Hosts: Bob Stahr and Rick Soller

LOCATION: Courtyard by Marriott at the Horizon Convention Center
601 S. High St.
Muncie, Indiana 47305
(765) 287-8550
VENUE: The Courtyard by Marriott at the Horizon Convention Center is located in downtown Muncie, IN, last home of the Hemingray Glass Co. The hotel is approximately 60 miles from downtown Indianapolis, IN.
ADMISSION: Admission is $3.00, and there is no charge for children under 12 accompanied by an adult. Dealers, exhibitors and their families are exempt from the admission charge. Admission is good for all three days. Friday, July 29 is designated as N.I.A. Day, and only N.I.A. members will be admitted into the show hall. This rule also applies to dealers and exhibitors. It is strongly recommended to renew your membership or join the N.I.A. before attending the show.
FOOD: There is food located within the convention center at the concession stand as well as in the hotel.
DEALERS: Dealers will be set up in the Delaware Room at the Horizon Convention Center. Dealer information and a contract are enclosed, as are the N.I.A. General Show Floor Rules. You must fill out a contract even if you have already paid for a table.
EXHIBITS: All exhibits will be set up in the Delaware Room which also houses all of the dealer sales tables. Exhibitor information and a reservation form are enclosed, as are the N.I.A. Exhibit and Judging Rules.
PACKAGE SHIPMENT: Packages may be shipped via UPS directly to the host hotel. Plan for your packages to arrive no earlier than Monday, July 25. Ship packages in care of yourself. Clearly mark the package as being for the N.I.A. Convention. For the return trip, there are plans to have a UPS store in the hotel which should be able to handle your shipping needs. We will provide further information when it becomes available. Please contact the hotel for the exact shipping address.
SHOW DIRECTORY: Plans for the show directory include a list of dealers and a floor layout of tables; information on the exhibits; resources for the insulator collector; advertisements from both local businesses and people in the insulator hobby. The directory will be sold at the show. Information on advertising in the directory appears elsewhere in this packet.
SHOW HOST COMMITTEE:
HOTEL RESERVATIONS: The Marriott Courtyard Muncie has reserved 100 rooms for the N.I.A. until June 28, at the rate of $105.00 plus tax per night for a single or double room (King or 2 Queen). The special rate for the N.I.A. convention is available by calling the hotel at (765) 287-8550. The rates are valid from July 27 through August 1. Please mention you are with the NIA for the special rates.
R.V. AND CAMPING INFORMATION: The nearest off-site camping grounds are Big Oak Park (765) 358-3208), Timberline Valley http://timberlinevalleyrvresort.com (765) 378-5909; and Prairie Creek Reservoir (765) 747-4872. The first one is in Muncie, the second is in nearby Anderson, IN, and the third is in nearby Selma, IN. Please call the campgrounds for additional information and directions.
AIR TRAVEL: The closest airports to the hotel and convention center are Indianapolis International Airport (about 78 miles) and the Dayton International Airport in Dayton, OH (80 miles). Fort Wayne International Airport, in Fort Wayne, IN may also be an option (63 miles).
TRAVEL AND TOURISM: Some information is enclosed on local attractions in Indiana. We recommend you contact the travel bureaus directly and ask for their information packages also. (Their information is located in back). If you need additional help please contact Bob Stahr.
HEMINGRAY PLANT TOUR: We are offering a van ride to the Hemingray Factory and a short narrated tour of the grounds and a look at the Indiana Historical marker erected there in 2011. Requests for Hemingray Plant Tour tickets must be received by June 30 to guarantee an opening. Each tour will be limited to about 12 persons and will be on an hourly rotation. After June 30, the tours will be on a first come first served basis.
MONEY MATTERS: All forms and checks for N.I.A. events are to be sent to Bob Stahr at:
Bob Stahr

360 S. Kenilworth Ave.

Glen Ellyn, IL 60037
Please make your check payable to Rick Soller. You will receive a receipt with confirmation of your reservations.
| | | | | | | |
| --- | --- | --- | --- | --- | --- | --- |
| Show information and form links: | | | | | | |
Schedule of Events
| | | | |
| --- | --- | --- | --- |
| | | | |
DIRECTIONS:
Muncie, IN is located to the Northwest of Indianapolis just off Interstates, I-69 and north of I-70. The hotel and convention center is located in downtown Muncie.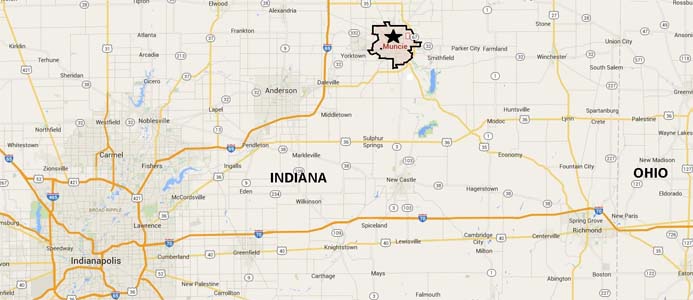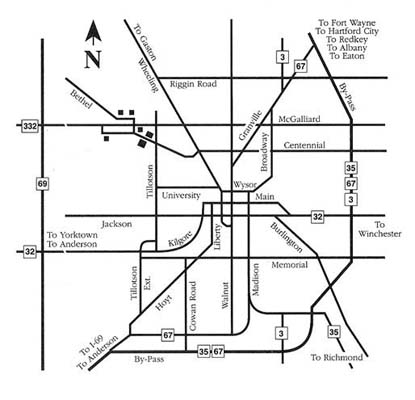 Coming from I-69 North of Muncie:
Exit I-69 onto Eastbound Indiana State Rd. 332 (McGalliard Ave.). Take SR 332 east and turn Right

(South) onto Wheeling Ave. Stay on Wheeling, after crossing the White River, Wheeling will turn into

High St. Continue South on High St. to the hotel.
Coming from I-69 South of Muncie:
Exit I-69 onto Eastbound Indiana State Rd. 32 (You will have to proceed through the stoplight at SR 67 to

get to SR32). Take SR 32 east into Muncie (about 12 miles). When entering town, Beech Grove Cemetery

will be on your left. SR 32 will turn East onto Jackson St. Follow Jackson St. east and turn right onto High

St. Continue South on High St. to the hotel.
Coming from US 35/I-70 Southeast of Muncie at Richmond, IN:
Exit westbound I-70 onto North US 35. Take US 35 northwest into Muncie (about 40 miles). When

approaching Muncie, take the Muncie/Ball State exit at the intersection of the SR 67 and SR 3 Bypass.

This will be 29th St. Continue westbound on 29th St. to Madison St. Turn right (North) onto Madison St.

and take it all the way to Adams St. Turn Left (West) onto Adams and take it to High St. Turn left (South)

onto High St. and continue South to the hotel.

Further information on air travel, hotel shuttle service, and train travel is located under the "More General

Show Information Section.

If you need additional assistance in finding your way to or from the hotel please contact Bob Stahr.
LOCAL ATTRACTIONS:
The following list is just a few of the many attractions in East Central Indiana. Please contact the venue directly for hours of operation and schedules of events. Below is a preliminary list of area activities, a more comprehensive list will be developed and appear in the show packets.
Muncie:
Hemingray Factory Plant Tours (Friday, Saturday, Sunday of NIA Show)

Muncie Children's Museum – attached to Horizon Convention Center

Minnetrista Cultural Center – local museum, gardens, weekend farmers market

E.B. & Bertha C. Ball Home

G. A. Ball Home

Ball State University

David Owsley Museum of Art

Atrium Gallery

Fine Arts Gallery

Planetarium

Sursa Performance Hall

Marilyn K. Glick Center for Glass

Muncie Civic Theater

Muncie Symphony Orchestra

Cornerstone Center for the Arts

White River Greenway

Tonne Winery

1958 McDonald's Restaurant Sign (only 1 of 2 left in country)

AMA National Model Aviation Museum

Prairie Creek Reservoir

Off Broadway Antique Mall

Old 67 Antique Mall

Caldwell Antique Mall & Flea Market

Muncie Dragway Racing
Indianapolis:
Indianapolis Indians Baseball (Minor League affiliate Pittsburgh Pirates)

Children's Museum of Indianapolis

Indianapolis Zoo

Eiteljorg Museum of American Indians and Western Art

NCAA Hall of Champions

Indiana State Museum

Dallara Indy Car Factory

Indianapolis Museum of Art
Other Central Indiana:
---

Return to the National Insulator Association page