The 2012 National Show!

June 22-24, 2012
The 43rd national insulator show was held in Kansas City, Missouri at the KCI Expo Center. Show hosts were Darryl & Margaret Wagner and Charles Brandon. The show was one of the larger Nationals with over 140 dealer tables. There were also 28 excellent displays surrounding the spacious hall. Dealers reported excellent sales and there was a great selection of both glass and porcelain available.
KCI Expo Center and Holiday Inn

Show hosts Charles Brandon, Margaret & Darryl Wagner.

2012 Show Logo
The Expo Center held both the NIA general meeting as well as a excellent banquet featuring KC BBQ and an impressive array of sauces. Walk through seemed steady both on NIA day (Friday) and Saturday. Two excellent activities were coordinated by the show hosts. On Thursday night before the show, Charles Brandon opened his home to collectors. Charles has an amazing collection of threaded glass consisting of over 9100 pieces including many rare and a few one-of-a-kind items. This was very well attended with two large groups of collectors participating. On Friday Darryl & Margaret Wagner hosted a picnic dinner at their house followed by a fantastic professional fireworks display. Shuttle service was provided to both events and attendance was excellent.
A couple special commemorative insulators were designed for the show. A full sized mickey mouse style was made in the mold for the 1983 National show but modified to have large drip points! The show information was sand blast marked on the skirt. A second version was done in 1/2 size with a smooth based embossed with the show information. These were both made in peacock blue glass. Additional versions included a light carnival coating, white slag glass swirling, a solid pour and a solid pour with a large base. All were very popular and the slag glass versions sold out quickly! Last of all was a slip cast porcelain option with a light blue glaze.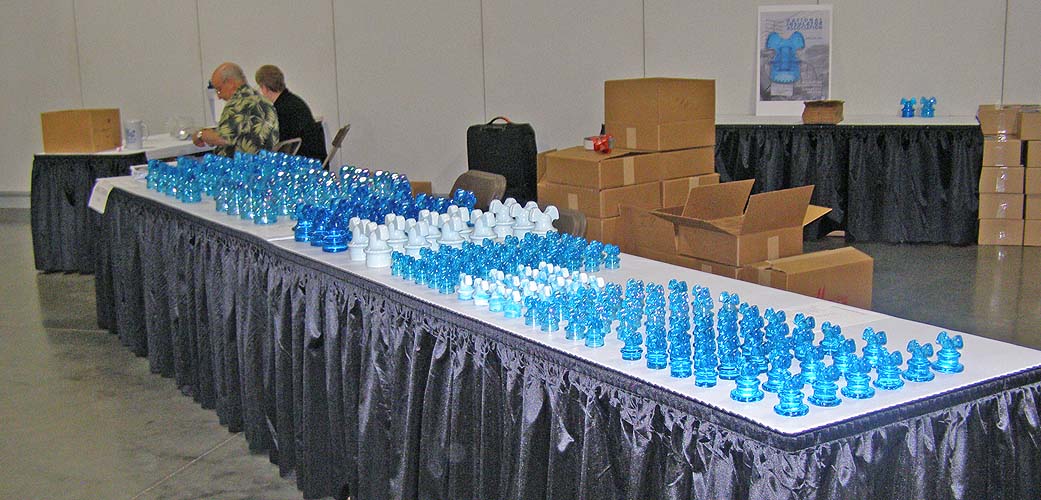 Mickey Mouse commemoratives for sale at the show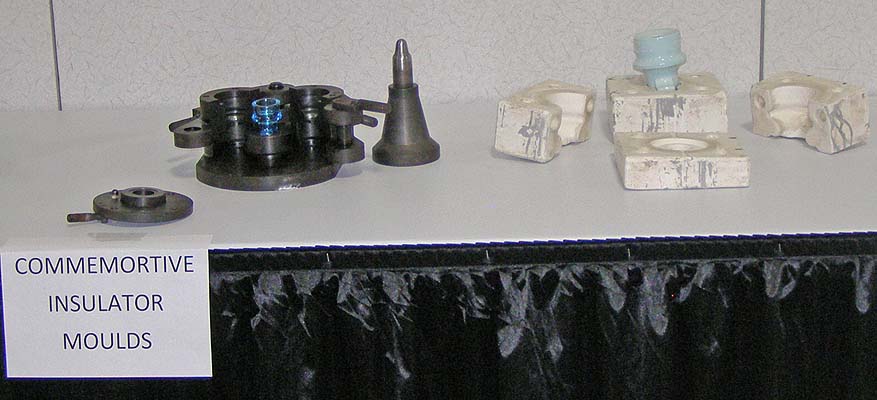 Commemorative molds for the 1/2 size and slip cast versions.
An excellent assortment of glass and porcelain was available at the show. Here are some examples:
CD 123.2 Chester

CD 257 Electric blue

CD 164 Citrine McLaughlin

CD 113 Westinghouse

CD 164.4 Fry glass

Two rare 4 part French multi-parts

Unusual "Paisley" style

CD 140 Jumbo

Nice mix of tough insulators

Another rare 4-part French multi!
For more details on this great show, check out the links below.
National shows are unlike anything else in the hobby. It is the one time of year where collectors from across the globe get together and meet.
---

Return to the National Insulator show page