The 2005 National Show!

July 8-10, 2005
The thirty sixth national insulator show was held in San Jose, California at the Doubletree Hotel. Show hosts Colin Jung and Dave Elliott along with the The NorCal Insulator Club did a great job planning and coordinating this excellent show! The show was a near sellout with over 100 sales tables and 24 displays.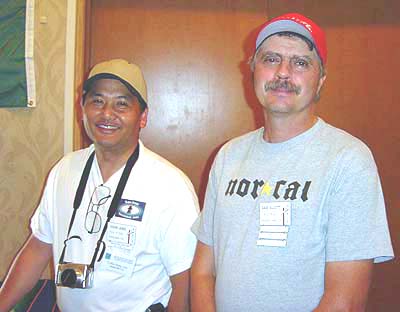 Show hosts Colin Jung & Dave Elliott
This great show had good walkthrough, fantastic walk in insulators that sold at silent auction, and the best raffle so far! The show featured an excellent caliber of displays and had plenty of great glass and porcelain available. Many rare and unusual insulators exchanged hands and the banquet was one of the best attended for a national show.
A view of the show hall

CD 735.3 U.S. Tel Co.

CD 112.4 Amber Hemingray

CD 145 American, CD 155 Kerr w/cobalt, CD 110.6 National

Insulators featured at the Silent Auctions!
For more details on this great show, check out the links below.
National shows are unlike anything else in the hobby. It is the one time of year where collectors from across the globe get together and meet. The 2006 National will be held in Austin, Texas. Link for information on the next National Show:
---

Return to the National Insulator show page