The 1995 National Show:

Marlboro, MA

July 14-16, 1995
The twenty sixth national insulator show was held in Marlboro, Massachusetts from July 14th-16th at the Best Western Royal Plaza Hotel. The show hosts were Kevin Lawless, Steve Jones, Bill & Jill Meier, with help from the Yankee Pole Cats Insulator Club (YPCIC). Thanks to Mike Guthrie for the display photos.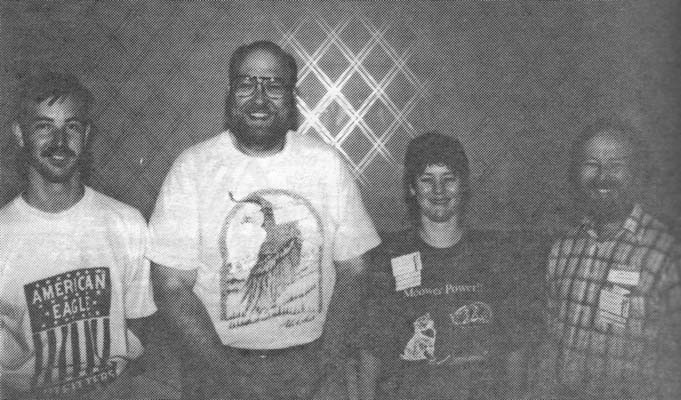 Show hosts Steve Jones. Kevin Lawless, and Jill & Bill Meier
The show featured a group display of insulators from New England that filled an entire conference room at the Hotel including many very rare examples! This effort was coordinated by Kevin Lawless & Joe Maurath Jr along with the YPCIC. The show was well attended with great walk-through all three days! Several rare and unusual insulators exchanged hands at the show. An unmarked CD 151 in red amber and a carnival CD 154 attributed to Whitall Tatum were sold as well as a CD 168.6 (a recent assignment). The Awards banquet was held at the White Cliffs Mansion and included the awards presentation as well as some "Hemingray-42" awards by Jerry Turner.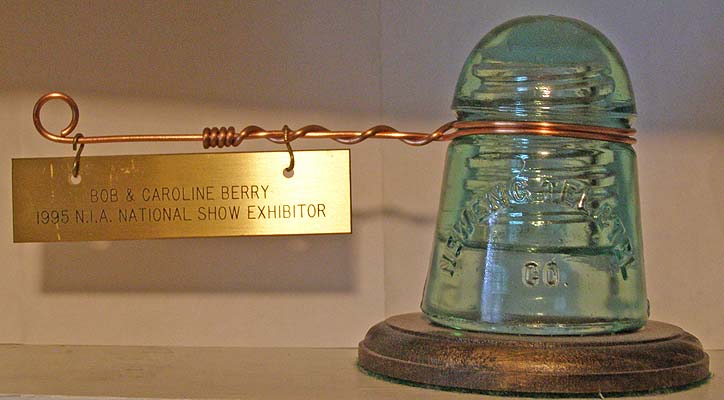 Displayer award provided to all collectors who donated to the New England room!
Here are some additional photos from the show!
If you have never been to a national show, I highly recommend the experience!
---

Return to the National Insulator show page