The 1992 National Show!

Orlando, Florida

June 19-21 1992
The 23rd National insulator show was held in Orlando, FL at the Marriott Hotel. The show hosts were Len & Jacqueline Linscott and Chuck & Sis Haymond. The show well advertised with an article in the Orlando Sentinel newspaper as well as even the toll takers near the hotel passing out show flyers. Thanks to Jacqueline Linscott for the photos used in this report.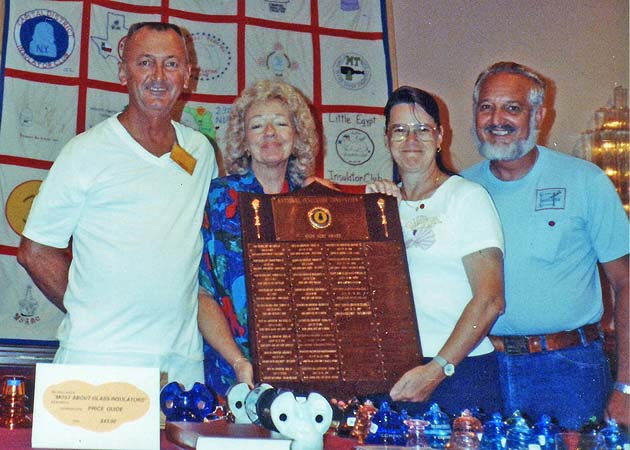 Show hosts Len & Jacque Linscott and Chuck & Sis Haymond with the show plaque.
The show featured a well attended awards banquet and featured the yearly annual presentation by Jerry Turner. A beautiful hand sewn quilt that has the logo of each insulator club was raffled off.
| | | |
| --- | --- | --- |
| John McDougald receives a typewriter complete with "Charmin" typing paper as a "hemi-42" award from jerry Turner | Club logo quilt that was raffled at the banquet. | Bob & Pheobe Adams receiving a "Hemi-42" award from Jerry Turner as Jacquline Linscott enjoys the moment. |
| Paul Ickes receives a "hemi-42" award. | | Show hosts receiving the national show plaque |
Just some examples of the insulators and people at the show!
Follow this link to see the displays: The 1992 National Show Displays
National shows are unlike anything else in the hobby. It is the one time of year where collectors from across the globe get together and meet. Link for information on the next National Show:
---

Return to the National Insulator show page