The 1989 National Show!

July 14-16, 1989
The 20th national insulator show was held in Allentown, PA at the George Washington Lodge. Show hosts were Frank Edgar. Dave Wiecek and Doug Williams. This particular National is frequently identified as a favorite show by many long time National show attendees. It was very well attended and had excellent walk-through. Collectors from all over the United States attended including a large contingent from he west coast. There were 121 sales tables and 24 excellent displays.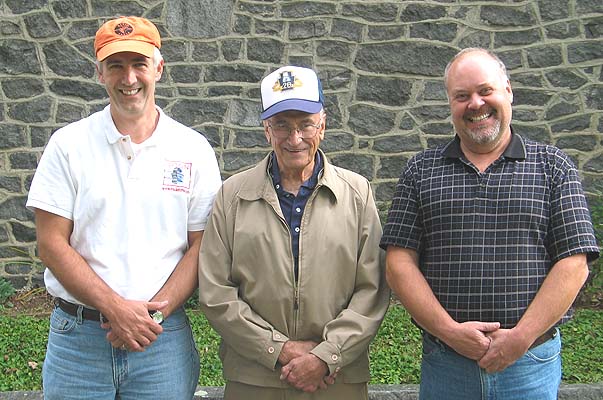 Show Hosts Dave Wiecek, Frank Edgar and Doug Williams (Picture taken 2009)
One of the highlights of the show was Doug Williams and Donna Vander Schaaf reaffirming their vows with NIA President Mike Guthrie officiating (They were married only four days earlier). Another unique feature was the truck that Mike Guthrie and Bill Rhode arrived in full of early and classic porcelain. The timing of this aligned perfectly with the recent increase in porcelain, especially multi-parts. Their hotel room was full with porcelain of all sorts and a crowd of collectors visited most nights. This show had excellent promotion and there was tremendous walk-through as well as good glass and porcelain walking in!
Two significant NIA awards were presented at the show banquet. Andy and Vi Brown of Redmond, WA received Lifetime Membership for their long time support of the hobby. Elton Gish received the Outstanding Service Award for his publication of the reference book on multipart porcelain insulators. The Sterling Finch award given by the Yankee Pole Cat Insulator Club was presented to Joe Maurath.
Some views of the show:
Typically busy activity at the show.

Dan May and Bob Fuqua looking at glass

Donna Williams

Bill Rhode & Mike Guthrie and the amazing hotel room of porcelain!
An editor's note: This National was special for me as it came just as my hobby interest was being rekindled, was held in my hometown, and really started my interest in early classic porcelain insulators in addition to power glass. Thanks to Mike Guthrie for providing many of the pictures here.
Follow this link to see the displays: The 1989 National Show Displays
National shows are unlike anything else in the hobby. It is the one time of year where collectors from across the globe get together and meet. Follow this Link for information on the next National Show: