| | |
| --- | --- |
| | The First National Show! June 20-21, 1970 |
The first national insulator show was held in New Castle, Indiana on June 20 & 21. In the January, 1970 issue of Insulators, Crown Jewels of the Wire, the show was advertised as the "First National Insulator Collector's swap meet". There had been numerous "local" shows prior to this, but the size of the planned show and the fact it was a two day event differentiated it from earlier shows. This show really established the insulator hobby, and started a tradition that allows collectors from all over the world to have a common meeting place.
Show Hosts:
Dennis Donovan
Arlene Harris
Dave Harris
The show had 95 tables and appears to have had excellent attendance and walk-through!
To best describe the show, I have taken excerpts from the Crown Jewels of the Wire show report from the August 1970 issue (Report by Dora Harned, permission from current editor Carol McDougald).
"It was wonderful! Nicest thing that ever happened in insulators. Meeting the collectors and subscribers from all over the United States is the greatest! It is stimulating and very educational. Try to imagine (for those of you who didn't attend) 95 tables of goodies on two different floors and the wear on the stairs in between. --Plus hundreds of collectors and visitors that didn't have tables."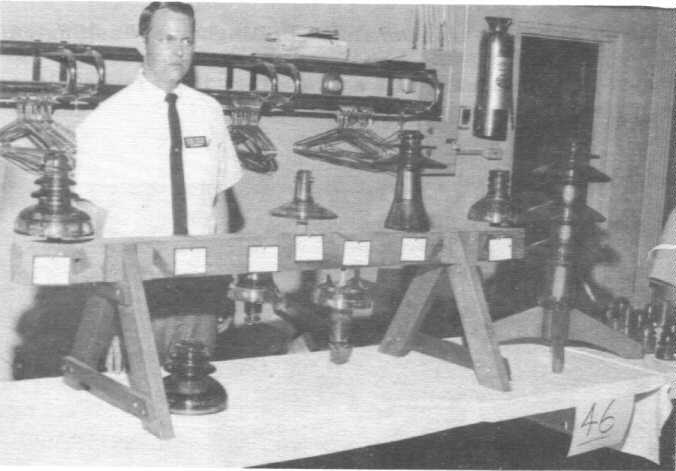 This picture shows Dennis Donovan (show host) and his Hemingray collection. This was truly a fantastic group of insulators described in Bill Meier's on-line article "The Greatest Insulator Find In the History of the Hobby".
"There was so much activity going on all the time that it was difficult to leave your table to talk to the other collectors that had tables and to see what they had for sale or trade. I wouldn't have missed it for anything. I saw insulators that up until now I've only seen in sketches or pictures or heard about. There was a case of mint glass blocks. I say mint because these were found in an old warehouse or building and had never been used. (Price range approx. $750 each). Also there was a dog ears or pluto ears (plus two badly damaged ones). I didn't find out the price on this one as it was already traded or sold when I saw it.Some of the other rare insulators at the show that were traded or sold were: Columbia No. 2, Boston Bottle Works, U.S. Tel. unthreaded, McKee unthreaded, threadless Mexican insulator, Cutters (both porcelain and glass), Jumbo, California Helmets purple and yellow, California one piece transposition purple CD #200, K one piece transposition, Chambers, Hemingray Mickey Mouse ears in a beautiful blue (not cobalt, but definitely blue), New England National spiral, McLaughlin U.S.L.D., and you name an insulator, it was probably there. The Liquid insulator was on display by the Roy Gollihughs of Oregon. I would hate to try to guess how many insulators were in that one building, from Hemingray 42's on up."
For more pictures, follow this link!
Thanks to Kevin Lawless for providing excellent original pictures, as well as historical information. Thanks also to Carol McDougald for allowing reprinting portions from Crown Jewels, and to Dora Harned for the original content.

Return to the National Insulator show page
---
Last updated Sunday, October 4, 1998
Webmaster