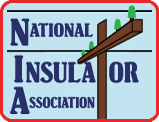 NIA Membership Application via Paypal
Note: Please make sure to complete BOTH steps 1 and 2!
Step-1: Follow this link, fill out and submit the form then continue to step 2 for Paypal payment!
Please fill in this
online form
and then use back to return for step-2.
Note: -- Make sure to select submit the form above before starting step 2!
Step-2: Secure electronic payment through Paypal!
---