| | |
| --- | --- |
| | Porcelain Pintype Multipart Insulators From North America |
North American multipart insulators were first originated in 1900 by Fred M. Locke with the M-2795 which has a top porcelain shell cemented to a threaded glass base. The idea of the glass base was that glass would provide a higher electrical puncture strength. This benefit was quickly dismissed and multiparts were soon made of all porcelain shells. Typical multiparts are made with two, three, or four separate shells that are cemented together. Elton Gish has developed a numbering system for these insulators by assigning M (Multipart) numbers. He has an excellent reference on multiparts as follows:
Multipart Porcelain Insulators (Second Edition)
Note that M-2000-2999 are two part multipart styles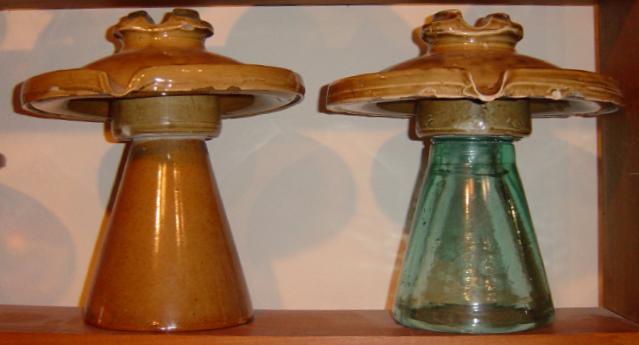 Shown are two of the very first multiparts made. Both of these were Fred M. Locke products.
From left to right: M-2796 & 2795

From left to right: M-2150, 2140, 2618A, 2154, & 2636

From left to right: M-2637, 2902 & 2842

From left to right: M-2140, 2234, 2430, & 2254

Next Page

---

Return to the insulator identification page
---
Webmaster